Online dating scams cost Australians millions. You can help protect yourself by learning how online dating scams work.
---
Online dating apps and websites can provide access to a vast dating pool. But be careful, as they can also woo you with various scams.
Romance scammers prey on the loneliness and trust of people. Scammers are known to create fake profiles on multiple dating websites with the intention of defrauding would-be romantic partners out of their money. Australians reportedly lost approximately $60.5 million to dating and romance scams in 2018, according to the Australian Competition and Consumer Commission (ACCC) 1.
Romance scams don't appear to be going away. Losses from dating-related fraud have increased from $42 million lost in 2017 to $60.5 million lost in 2018 2.
The good news? You can help protect yourself — and your wallet — by understanding how these online dating scams work.
What is an online dating scam?
Here's how a typical dating scam works. A fraudster can create a fake profile on either a dating app such as Tinder or on popular social media websites like Facebook and Instagram, then strike up a conversation.
Over time, the con artist will build trust and rapport with their target, sometimes communicating several times a day throughout text messages, instant messaging, online chats, and emails.
When the moment seems right, the scammer will then ask for money or personal information about the victim's financial life. Once the victim provides the money or information — poof — the scammer will often disappear and cease all contact.
Romance scams can get more complex and public, too. Here's an example. You may meet someone online who may ask you to move your conversation over to another form of instant-messaging, such as Skype or WhatsApp. Your conversations might reveal personal information or become intimate, and the scammer may even ask you to exchange photos.
What happens next? In a recent dating extortion scam, a victim had received a link to a website where their conversations had been posted, along with their photos, personal contact information, and a demand for payment in order to have the information removed.
How to spot an online dating scam
You probably have a sense for what's considered normal behaviour online. But it might be hard to see through a scam when there are emotions are involved. Here are some telltale signs that you might be talking to an online scammer.
Phony profiles
A legitimate dating profile will typically have plenty of photos of the person in various situations, along with one or two that show the person's whole body — not just part of their face, for instance. The individual can also include links to their personal Facebook and Instagram accounts.
In contrast, a dating profile might be fake if the person hasn't listed any personal details. Or maybe their interests and hobbies just about exactly match yours — too much to be a coincidence.
Another trick? Scammers can claim that they are taking care of an ill family member and do not have the funds for their urgently needed surgery or medical bills.
And what if they use stock photos for their profile picture or refuse to communicate over video chat? These are clues that often indicate the person is trying to hide their true identity.
Asking for money
If your online love interest asks you to transfer money to them or send a gift card, beware of a likely scam. These are ways to get cash quickly while remaining anonymous. Plus, the transactions are hard to reverse.
In 2015, the ACCC reported that Australians lost around $75,000 each day due to dating and romance scams 3.
A scammer can ask you to send money for things such as travel expenses, medical fees, and gambling debts, and they will usually have a sob story to back up their request. Once you have sent a little bit of money; they'll ask for more. If you say "no," their messages may become desperate or turn aggressive.
And there's an alternate money scam. They may send you money. This could rope you into a "money mule" scheme.
The scammer may ask to deposit money into your bank account, distribute the funds to other people, or even deliver packages. These requests could be tied to a money-laundering or drug-trafficking network.
Leaving the dating site to communicate
Many online dating sites offer some forms of safety features such as these, for example:
Dating-site users don't have to exchange phone numbers.
They may be able to report inappropriate messages or offensive people.
They can track all their in-app conversations.
If a scammer asks you to leave the dating site and continue talking over text message or other chat options, you can lose those safety measures. Plus, the scammer will have your phone number, which can make it more difficult to cease communication.
It's a good idea to pay close attention to your conversations. Here are several red flags to look out for:
The person's messages appear like they could be copy-and-pasted into any conversation.
The conversation doesn't flow or make sense.
The grammar and spelling are way off.
The person professes their love for you quickly, which can be an attempt to gain your trust.
Promising to visit, then cancelling
Scammers will typically work to keep their identities secret. That's because once they've taken your money, they don't want to get caught.
One way to keep you from questioning their identity is to promise to come and visit you. They may even have request for you to pay for their plane tickets or other travel expenses involved.
But the scammer will cancel at the last minute, while providing an elaborate reason for why they can't see you after all.
How to protect yourself from online dating scams
Dating scams can often end with victims losing their money. In some cases, victims have even been pulled into criminal activity.
Besides the financial costs, there can be emotional costs, too. You may feel depressed, heartbroken, or embarrassed after someone you trusted has scammed you.
That's why it's important to protect yourself against online dating scams.
How to protect yourself from being scammed
Here's the rule that online dating experts agree on: Don't ever give out your financial information, top off a cash reload card, or send money or gifts to someone you haven't met face-to-face.
It's a good idea to approach an online relationship slowly and ask questions as you get to know each other. Look for any inconsistencies or answers that may not add up with other details the person has provided.
If something about your online romance doesn't feel right, you can check out your love interest's social media profiles or do a reverse image search to see whether their photos have been used on other websites.
To do this, right-click on an image of the person, choose "copy," and go to images.google.com, where you can paste the image. Google will show you a list of the websites where the image appears online. If it shows up on a stock photo site or seems to belong to someone else entirely, then it could indicate that it's part of a scam.
If you suspect an online dating scam, tell someone you trust, and consider whether friends or family members have already pointed out any warning signs to you. Stop all communication with the likely scammer and report them to the online dating service if you're using one. The app can investigate, flag or delete the profile.
Falling in love can be great. But before you let someone steal your heart online, check out this graphic for the main statistics related to online dating scams, as well as various tips on how to help protect yourself in the online dating world.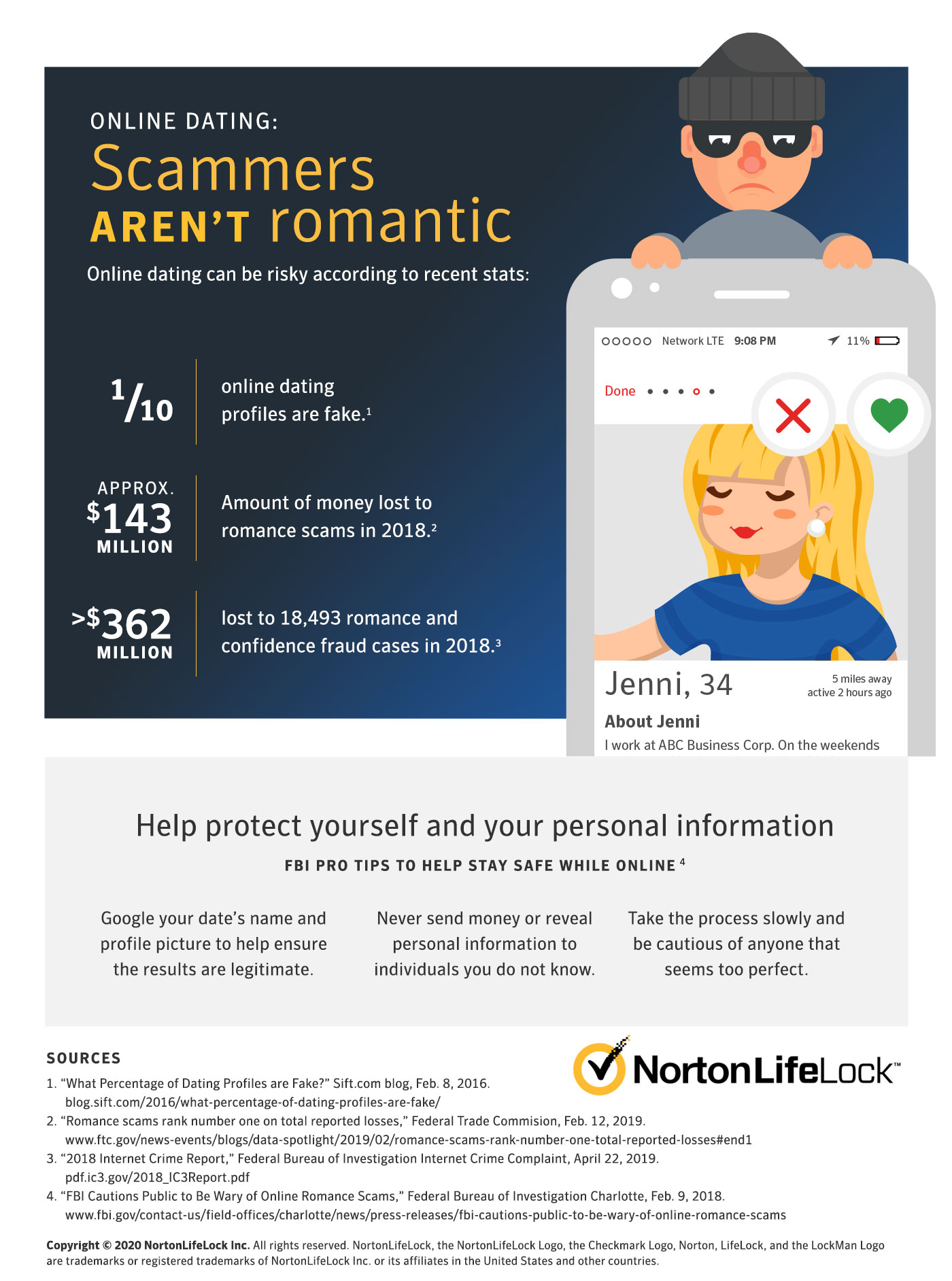 What to do if you've been scammed by online dating
It is very difficult to recover any money that has been transferred after you've been scammed, according to the Reserve Bank of Australia (RBA) 4. However, immediately reporting these incidents to the Australian Securities and Investments Commission (ASIC) will help investigators look for commonalities in these scams. Analysing the data may help lead investigators to the perpetrators.
Collect any records you have of your online relationship. This can include conversations, transactions that can track any money you've sent, and any other information that may help to identify the perpetrator. Immediately report the incident to Scamwatch via Report a Scam.
Also, contact your bank right away if you believe you've sent money to a scammer. Your bank may be able to reverse the transaction or even track down information about the account you've sent money to. It can also help if you've also filed a police report.
According to one estimate, around 10% of online dating profiles are fake. Understanding and knowing the signs of fraud and trusting your instincts will make all the difference between getting duped and avoiding a scam.
SOURCES
1. "Cost of scams up 43 per cent in 2018: ACCC" insiderretail.com.au, April 29, 2019. https://insideretail.com.au/news/cost-of-scams-up-43-per-cent-in-2018-accc-20190"Australians lost nearly half a billion dollars to scammers in 2018, says ACCC" abc.net.au, April 29, 2019.
2. https://www.abc.net.au/news/2019-04-29/accc-report-scams-2018-surge489-million/11053946.
3. "Australians lose $75,000 every day to romance scams" accc.gov.au, February 13, 2015. https://www.accc.gov.au/media-release/australians-lose-75000-every-day-to-romance-scams.
4. "Questions & Answers: About Scams", Reserve Bank of Australia. https://www.rba.gov.au/qa/scams.html.
Editorial note: Our articles provide educational information for you. Our offerings may not cover or protect against every type of crime, fraud, or threat we write about. Our goal is to increase awareness about Cyber Safety. Please review complete Terms during enrollment or setup. Remember that no one can prevent all identity theft or cybercrime, and that LifeLock does not monitor all transactions at all businesses. The Norton and LifeLock brands are part of Gen Digital Inc. 
---