If you're the type of person who regularly receives smartwatches, wearable tech, and other gadgets as gifts, it's important to know how to help protect them.
---
'Tis the season to be jolly — and increasingly aware of our cyber safety. This is especially true when it comes to new device security, because cybercriminals are eager as ever to embrace the most wonderful time of the year. 
If you're the type of person who regularly receives smart watches, wearable tech, and other gadgets as gifts, it's important to know how to set up and secure those new devices. Doing so means not only protection against viruses and assorted malware, but also from prying eyes.
Gadgets not on your own holiday wish list? There's a safe chance you're giving one to someone else and an even greater chance that you're holiday shopping on a connected device. 2020 and the coronavirus pandemic saw increased numbers of consumers turning to e-commerce and this trend is expected to continue into the holiday period.
All this to say, everyone should practice heightened cyber safety over the holidays. We've summed up the most anticipated tech gifts of 2020, some of their built-in security features, and new device security best practices to ensure your days remain merry and bright.
Top tech gifts over the holidays
According to the Consumer Technology Association, the tech-topping 2020 holiday wish lists goes to:
Smartphones
Laptops

Video game consoles

TVs

Wearables

Devices revolving around the  Internet of Things (IoT), such as smart toys to smart homes, is also on the rise. In fact, many adults plan to purchase toys dedicated to engineering and robotics and, according to Telsyte, the home automation market is expected to reach $4.8 billion by 2024. With our worlds becoming ever more connected, it's increasingly important to set up your new gadgets securely.
What is device security?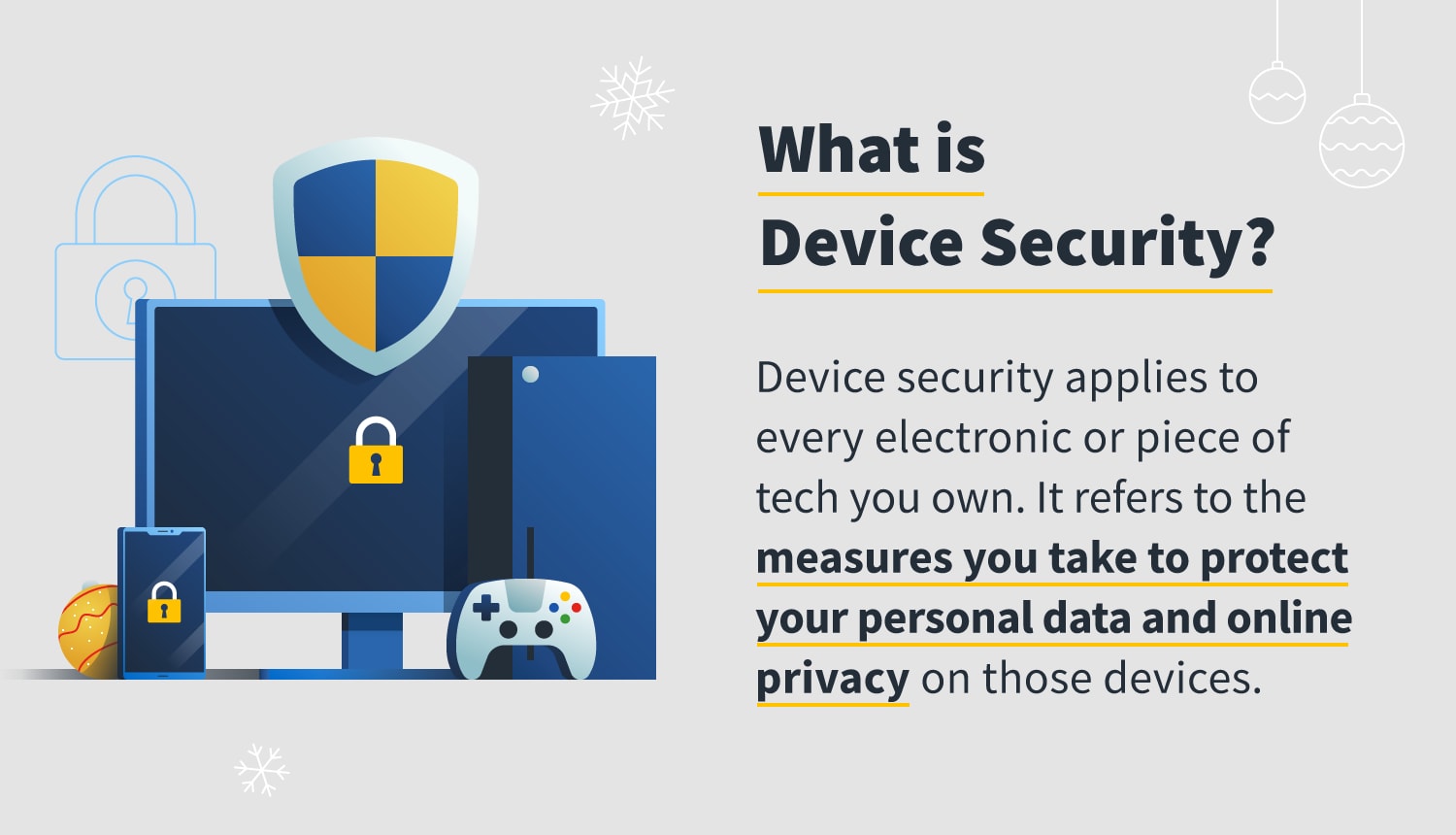 Device security applies to every electronic or piece of tech you own. It refers to the measures you take to protect your personal data and online privacy on those devices, from best practices to installing applicable security softwares, as well as the ways in which you harness the built-in security features of each device.
From the moment you unbox and power up new devices, security should be a major part of your set-up process, beginning with understanding your new device's built-in security features.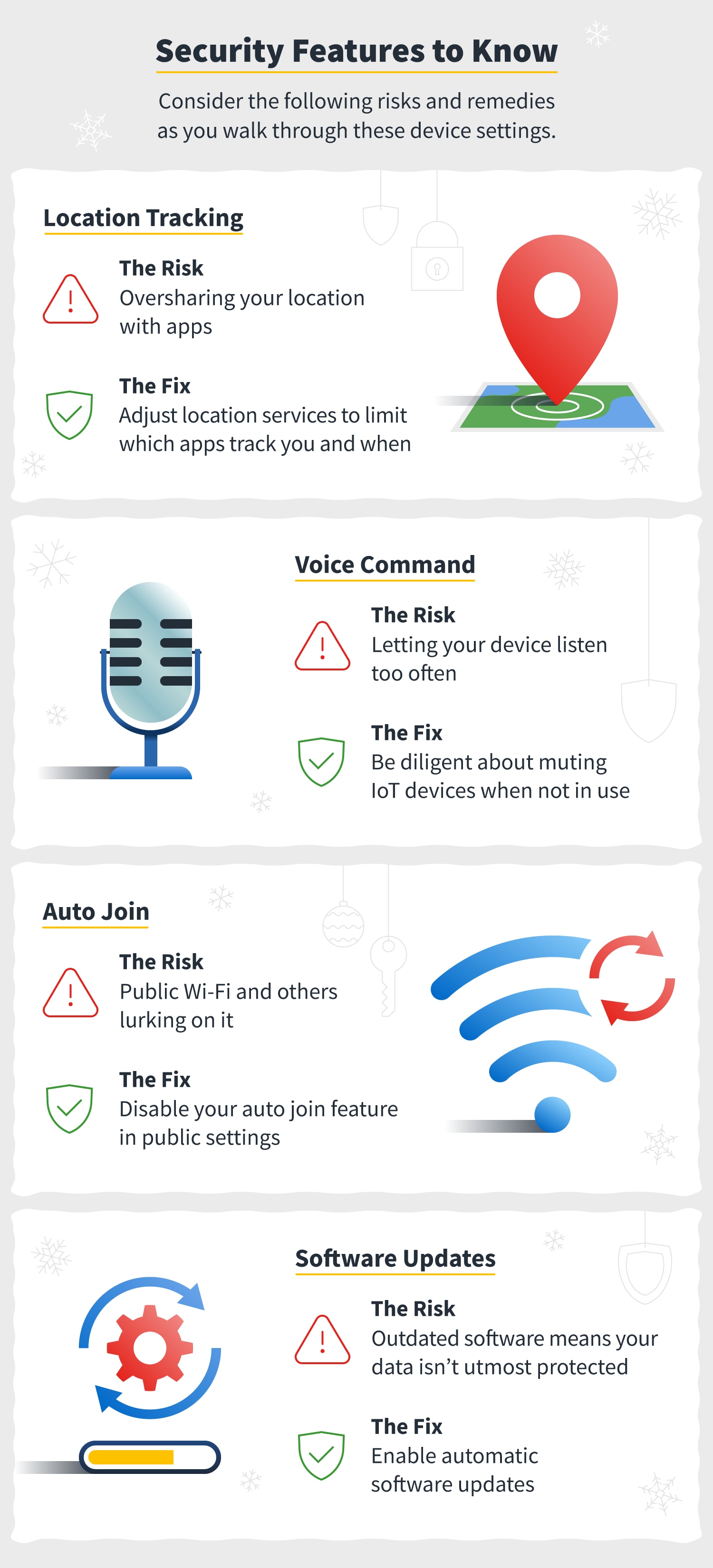 New gadgets come with new bells and whistles, some in the name of security. Despite the well-meaning intentions of tech manufacturers, some of these security features still have vulnerabilities. It's up to you to adjust their settings accordingly.
Whether it's a laptop, tablet, smartphone, video game console, or other smart device, these are a few of the most common security features you might see built into your new device.
Location tracking and services
Location tracking refers to the ways in which your electronics record your movements by way of GPS navigation. Technology can use this information to inform what's marketed to you online. It also links up to "find my" applications so you can locate your device when it's lost. Location services control which apps access your location data, and sometimes those apps default to following your location upon download, perhaps infringing on your privacy.
The risk: The more you share your location, the more people can track you, including cybercriminals.
The fix: Adjust your location services to limit which apps track your location and when.
Voice command
Voice command, or voice activation, has become almost standard on new devices, including Siri on Apple products, Google Assistant on Android, and Amazon's Alexa. There are even refrigerators to field your grocery list. Dictating our needs via voice command can make our busy lives easier, and often these features have voice recognition software to only listen to their owners' voices. Still, it's worth investigating just how often your device is tuning into your conversations.
The risk: Your device might be listening to you even when you don't know it and, therefore, gathering and storing personal information.
The fix: Be diligent about muting your smart devices or secure their lock screens when not in use.
Passwords, passcodes, patterns, and PINs
Whether your device denotes it as a password, passcode, pattern, or PIN, these are your first line of defense in protecting your connected devices. Think of it like keys to a door. No lock has the same one and the same should go for your passwords across devices and accounts.
The risk: When you go the easy route of using the same password or simple ones across devices, you make it easier for cybercriminals to hack our accounts.
The fix: Always use strong passwords and passphrases for maximum password security and consider a password manager to keep track of all of them for you.

Two-factor authentication
Two-factor authentication (2FA), or multi-factor authentication, is a second step in verifying your identity to login to a device or account. This may be in the form of security questions, verification codes sent via SMS or email, or maybe an additional pin or password. Some 2FA types are even physical, in the form of hardware tokens like USB drives, and others types are biometric, like facial recognition.
The risk: While an added layer of protection, 2FA isn't hack-proof. If hackers already have access to your accounts, they could also reset your 2FA login and lock you out of accounts entirely.
The fix: Triple protect your devices with an authenticator app, which generates unique codes on the spot rather than sending them via SMS. Some password managers also offer this service.
Auto join
An auto-join setting allows your devices to automatically join Wi-Fi networks, oftentimes without running those networks by you. It's a benefit for trusted networks you've joined before, such as at home, and can expedite your public Wi-Fi connection process — but not always for the better.
The risk: Public Wi-Fi comes with a lot of risks. Auto joining to a public Wi-Fi network could expose you to some of those.

The fix: Disable your auto join feature in public settings and manually opt for a trusted network to join.
App permissions
There's no escaping apps on our devices. Some are even designed to make our lives easier, and we enable that by allowing them to access our contacts, photos, camera, microphone , and location data. Still, not every app needs to know all there is about us.
The risks: Upon download, some apps might default to accessing your data, putting your privacy at risk.
The fix: Monitor which apps have access to what personal information on your device and adjust their settings accordingly to "only when using app," "never," or "always."
Software updates
App and software developers are constantly monitoring for security holes in their products — and patching up those holes via updates. Yet, many of us only update apps at our convenience, potentially making it more convenient for cybercriminals to target us.
The risk: Not keeping your software and apps up to date means you're more susceptible to cyber threats.
The fix: Enable automatic software updates so your devices stay on top of these for you.

Lock screen
If a password is the key to your door, a lock screen is the physical door. Leave it open and anyone can walk in. That's why most devices lock up when not in use and require you to sign in again to access them.
The risk: Disabling a lock screen means anyone, even strangers, can use your device and access your accounts.
The fix: Enable biometrics, like facial or fingerprint recognition, so only you can unlock your phone.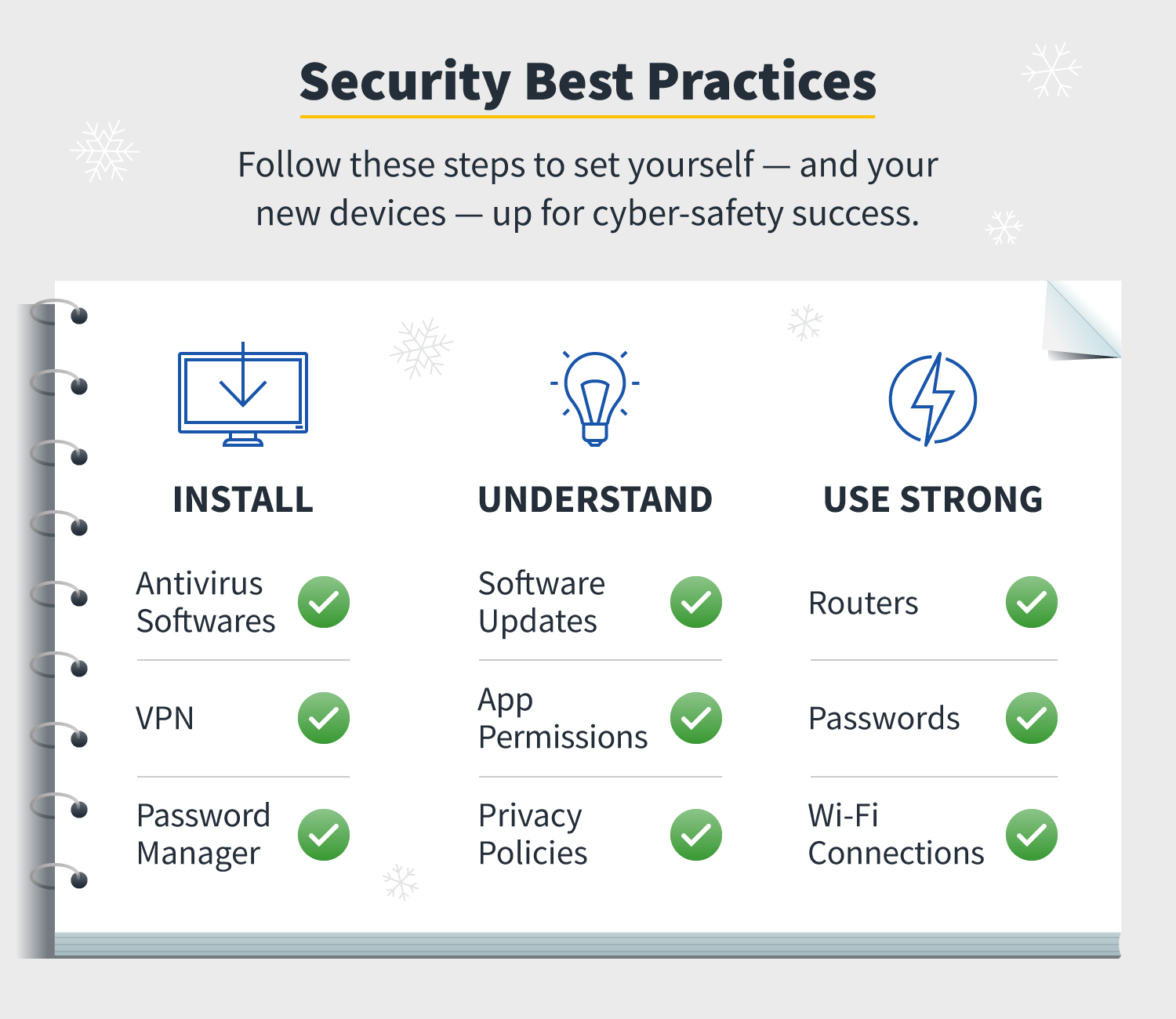 Despite several common security features and settings across our devices, not all tech is made the same. Consider the following best practices and tools when setting up each of your newly gifted gadgets and caring for them in the long term.
Mobile device security
No matter your preference — iPhone, Android, iPad, or other tablet — it's the apps you download on them that can most often cause security issues on your mobile devices. Malware infections can occur from third-party app stores and also drive-by downloads, whereby you don't even give consent for something to be downloaded. Given the mobile nature of smartphones and tablets, it's also important to protect them from the elements and strangers who might come across them. Consider the following pointers to keep your devices secure.
Understand what apps you're downloading and read privacy policies associated with them to inform what permissions you grant.
Install a security software to help ward off cyber threats and provide virus protection to safeguard the private information stored on your devices.
Consider a durable case that will withstand water damage and inevitable drops.
Enable your device's "find my" feature so you can locate it in the event it's lost.

Protect mobile devices from strangers by securing your lock screen using a biometric login versus an easy-to-hack passcode or pattern.

Computer security
We conduct a lot of important business on our laptop and desktop computers. Whether you're on a PC or Mac, computer security threats — resulting in  identity theft, data loss, and even financial loss — often stem from our browsers, plug-ins, and applications. This is why each of these components need special attention upon setup, as well as the following consideration.
Monitor what personal information you've granted your browser access to and  whether it really needs that information.
Install a security software for comprehensive protection from cyber threats.
When browsing, never click on pop-ups.

Be mindful of if your connection is not private.
Install a VPN to ensure your data is encrypted and illegible to cybercriminals.
Video game security
Despite Aussie kids spending 100 minutes a day on average playing games, they are no longer the only ones engaging in this form of entertainment. According to a survey by the IGEA, 424 percent of Australians over 65 years old identify as gamers. This means video game security is a topic for everybody and so are these best practices.
Install a video game security software to ward off cyberthreats.
Use strong passwords across your gaming accounts.
Use anonymous gamertags that don't allude to personal information.

Instill digital citizenship in kids to prevent cyberbullying.

Consider downloading parental controls to monitor kids' online activities.
IoT device security
IoT is a bit of a catchall for any electronic device that connects to the internet. It includes laptops, tablets, smartphones, and video games but also smart speakers, smart TVs, security cameras and doorbells, smart toys, and wearable tech like fitness trackers. It's your router that brings all of those connected devices together to create a smart home. Keeping your connection secure and exercising caution when using common features like voice command can go a long way in protecting your privacy.
Use a complex router name with no personal information.
Consider installing a separate Wi-Fi network for guests.

Be cognisant of when voice command devices are unmuted and what you want them to listen to.
Enable voice recognition so your devices only listen to trusted users.

Consider using a purchase password for voice commands so that not just anyone can purchase on demand.
Tech changes every year, and so do the cybersecurity threats that come with it. Thankfully, there are experts to roll out new security tools to help ensure your holidays stay holly jolly. In fact, you might consider putting a cybersecurity suite on your own holiday wish list. Better not be naughty.

Editorial note: Our articles provide educational information for you. Our offerings may not cover or protect against every type of crime, fraud, or threat we write about. Our goal is to increase awareness about Cyber Safety. Please review complete Terms during enrollment or setup. Remember that no one can prevent all identity theft or cybercrime, and that LifeLock does not monitor all transactions at all businesses. The Norton and LifeLock brands are part of Gen Digital Inc. 
---