Everything you need to know on the 2021 Norton Cyber Safety Insights Report: Special Release – Gaming & Cybercrime
---
The gaming industry is not a niche market anymore. On the contrary: it is becoming more popular than ever, and in turn, increasingly competitive. Especially during the pandemic video games have not only offered an escape, but an alternative way to socialize and stay connected with friends. 
Video games serve as another way to for gamers to find valuable connections and broaden their social lives through online platforms. Among the Australian gamers surveyed who saw an increase in the amount of time they spent playing games during the pandemic, many say it made them feel closer to their family (21%), helped them feel a sense of community (23%), and helped them make new friends online (34%), according to the results of our study. 

Sadly, not everything is just sunshine and rainbows: As the competition grows steeper, some gamers look for new ways to make the most of their resources and gain a competitive edge. In fact, the recently released 2021 Norton Cyber Safety Insights Report: Special Release – Gaming & Cybercrime study uncovers surprising findings about the online gaming culture and just how far some gamers are willing to go to win. 
Gamers: Attractive targets for hackers
Attacks to gaming accounts are actually more common than you might think, and it makes sense, as gaming profiles can have quite the monetary value. This is often the case if they have considerable virtual currency banked up or an impressive library of in-game digital items, like limited edition skins. Cybercriminals also take advantage of stolen accounts by selling the scraped personal information on the dark web, using details like the credit card number linked to an account for fraudulent purchases, or other nefarious purposes, like identity theft. 
In turn, hardcore and professional gamers are more likely to experience cyberattacks to their gaming accounts. Not only because they spend more time online, but they also typically have more built-out, "valuable" gaming profiles. They also have channels that receive a significant amount of traffic and are highly visible to the public.
Accounts as valuable as coveted art pieces
With the amount of time and money players invest in building their profiles to reach higher levels in their favorite games and in order to stay competitive, gaming accounts can be as valuable as a coveted art piece. Especially for those that are considering a professional career, losing something you've spent so much time and effort working toward can be devastating.
In fact, our recent Gaming & Cybercrime study found hardcore gamers in Australia overwhelmingly say that they would be very upset or devastated if their gaming account was hacked and they lost their account (61%), progress they made in the game (51%), or digital items they earned or purchased (50%), like special edition skins.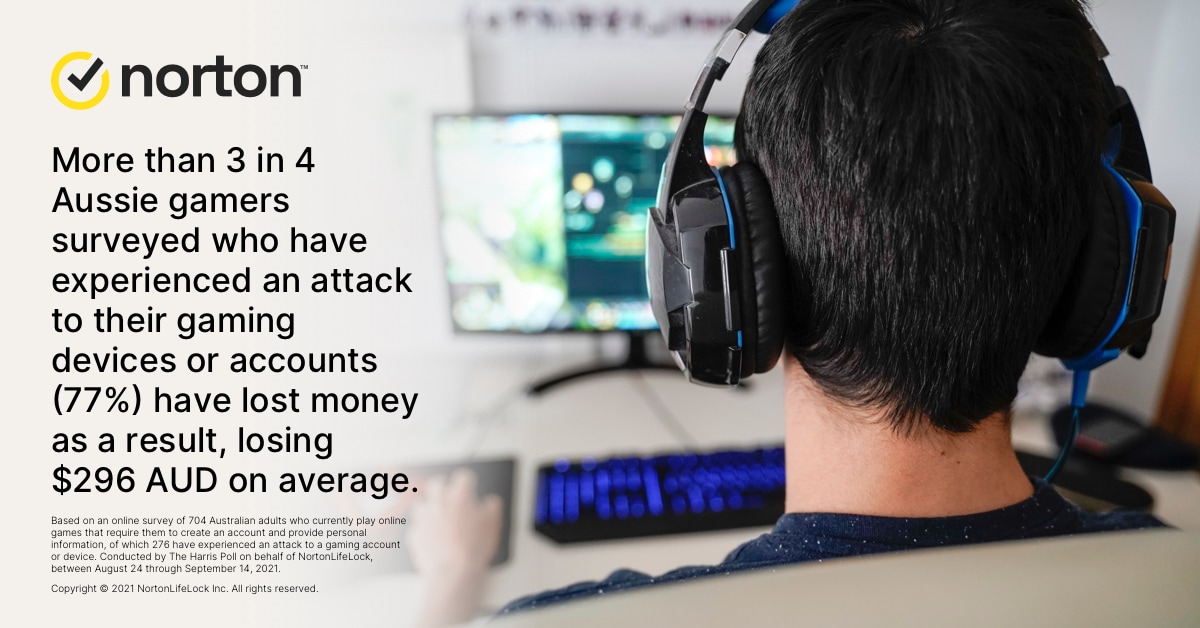 Gamer vs Gamer 
The study also uncovered surprising findings about gamer-to-gamer cyber risks and the great lengths some of them are willing to go to win. Over a quarter of the Australian gamers surveyed (28%) are at least somewhat likely to hack into the gaming account of a friend or – even worse - family member or romantic partner for a competitive advantage in online games.
"These findings are jarring, but there are some gamers out there that will do whatever it takes to win," says BigCheeseKIT, gamer and Twitch streamer. "I've learned that when you're gaming online, it's so important to be mindful of who you are friends with online and what information you share when gaming online. While this is especially true for professional gamers who have that public profile, it's clear this goes for any online gamer."
Most commonly experienced gaming attacks
Now you might be wondering what the most common types of gaming attacks are and how you'd recognize them. Just read on to find out:
Doxxing, a form of online harassment where a user targets a specific person or group, finds personal information and publishes it. A famous example would be the time when feminist media critic Anita Sarkeesian was doxxed in 2013 after releasing her YouTube series about gender stereotypes in games called "Tropes vs Women in Video Games." Doxxing is not uncommon for gamers that spend a lot of time online.
Hacked game accounts, are defined by cybercriminals fraudulently logging into someone else's gaming account. This is often achieved via stolen account credentials, whether dumped in a data breach or purchased on the dark web. Once logged in, cybercriminals can access the payment services linked to the account, like credit cards. The gaming user might notice missing funds from their gaming account, and in some cases, discover that their account was used to make fraudulent purchases. 
Disguised downloadable game content, in which cybercriminals offer up free downloads of game content – like software cheats or special edition items – to trick gamers into clicking spammy links or downloading malware that infect the gamer's device or system. This can take the form of phishing emails or even Discord chats. According to our study, 14% of gamers surveyed worldwide have been tricked into installing malware onto a gaming device
How to protect yourself
If you are a gamer, you might wonder if there is anything you can do to protect yourself against attacks like the ones above, aside from being extra careful and vigilant. We've prepared a few tips and ideas that might interest you:
Be proactive about Cyber Safety: With the intense competition in online games today, it can be tempting to remove any software that might impact your PC's performance. However, having that safety net when you accidentally click on a spammy link or download content that's sneakily laced with malware will help ensure your game keeps running smoothly in the long-term – and that you don't lose your gaming profile or in-game items to cybercriminals.
"I know that people hesitate to have antivirus programs on their computers when they are playing games, but they don't know Norton 360 for Gamers. Once you try it out, you will still have your high frames per second and your quality as long as you use Game Optimizer. You can trust me on that," says BigCheeseKIT.
Avoid #StrangerDanger: The online gaming community is a great way to meet new people, and it can be tempting to share details about yourself to forge connections. However, avoid sharing personal information with online friends, like your birthday or location – instead, bond over common interests or your favorite game.
Use purposeful passwords: Strong passwords are essential for a safer and more secure online gaming experience. Use different passwords for different sites and make sure they are a bit longer and include symbols and numbers. Use a password manager, too, which – by the way - is also included in Norton 360 for Gamers. As long as you have a password manager, you will always have what you need as far as remembering your passwords and not having to think about it. On top of that two-factor authentication is always a good idea if available. 
Be sure to check out the Norton Internet Security Center for more Cyber Safety tips.
Editorial note: Our articles provide educational information for you. Our offerings may not cover or protect against every type of crime, fraud, or threat we write about. Our goal is to increase awareness about Cyber Safety. Please review complete Terms during enrollment or setup. Remember that no one can prevent all identity theft or cybercrime, and that LifeLock does not monitor all transactions at all businesses. The Norton and LifeLock brands are part of Gen Digital Inc. 
---